Fauske & Associates, LLC (FAI) is pleased to introduce our new state-of-the-art Cable Flame Testing Facility (Flame Hut). We worked with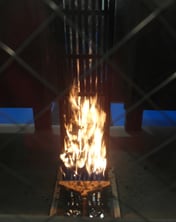 Underwriter's Laboratory (UL) in Northbrook, Illinois to design our flame hut to specifications that match those of their UL 1685 vertical cable tray test facility. This assures our facility will generate results consistent with those produced by the UL facility.
Currently, we provide IEEE-1202 testing, which can be performed under our full 10CFR50 Appendix B and Part 21 Quality Assurance program, and are in the process of adding additional flame testing standard tests.
The 8' x 8' x 11' chamber has the capability to perform large scale cable burning tests, and can be sealed to accommodate small and sensitive flame tests.
Precise instrumentation and control maintains required test conditions (air-to-gas mixture, flow rates, etc.) along with exhaust duct temperature and flow rate.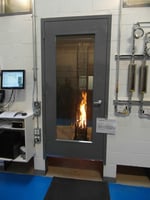 IEEE-1201-Testing Our flame hut test facility is equipped with LIVE VIEW web viewable high definition video cameras enabling customers to observe tests being performed without the need to physically be at our test facilities. Each test can also be video recorded to document the cable performance.
Our test facility ventilation system is also consistent with that of the UL Northbrook facility and includes smoke measuring instrumentation to evaluate low smoke cable constructions to determine UL 1685 compliance. In addition, our test facility exhaust exceeds local smoke abatement requirements. We are good neighbors.