FAI offers both on-site cable testing and laboratory material testing of your cables.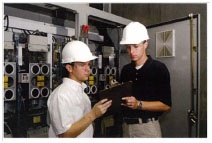 Our flagship Non Destructive Examination (NDE) cable testing tool is: LIRA (LIne Resonance Analysis). LIRA performs both a global and local assessment of your cable's performance. The global evaluation provides a complete assessment of the cable's insulation performance. The LIRA local assessments can locate and localize cable insulation performance (i.e., degradation) issues.

LIRA Features include:
In-situ cable testing performs local and global cable assessments
Test all cable sizes from low and medium voltage cables to the high voltage cables used in the transmission and distribution industries
Accommodates both shielded and unshielded cables (two or more metallic cores)
Damage-free testing methodology using a very low voltage signal (5 VDC or less)
Short test time – less than 5 minutes (evaluation can be done elsewhere later)
Test inaccessible/buried/underground cables
No need to determinate de-energized connections (breakers open)
LIRA evaluation of Transmission Cables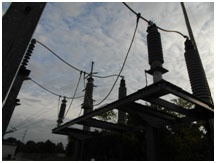 The following is a brief summary of a typical LIRA test, using a 3-phase tri-plexed cable as an example. Other cable types may have a slightly different procedure implemented.

1. Per plant procedures take the cable out of service
2. Ground both cable ends to dissipate all electrical charges
3. If the far end of the cable cannot be grounded, the test end should remain grounded for 24-hours prior to testing to avoid any lingering voltage on the line
4. At the test end of the cable, remove the ground
5. Connect the 2 LIRA test probes to 2 of the 3 phases (i.e., A-phase & B-phase)
6. Perform a LIRA test
7. Move the LIRA test probes to 2 different connections (i.e., A-phase & C-phase)
8. Perform a LIRA test
9. Move the LIRA test probes to the last 2 untested combinations (i.e., B-phase & C-Phase)
10. Re-ground lines
11. Move to other side of cable (if possible) and perform the same test sequence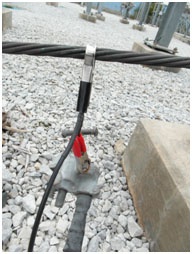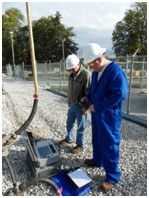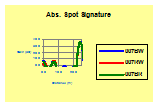 Simple LIRA test lead connection via alligator clips. Shown is LIRA connection to ground and a Transmission cable
LIRA On -Site Testing of a Transmission cable
Example LIRA output, with anomaly at 7.4 m