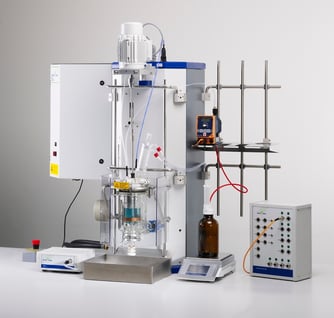 The RC1 is a heat flow calorimeter. As such, the heat leaving or entering the reactor is characterized by UA(Tr-Tj) where U is the overall heat transfer coefficient, A is the area of heat transfer and Tr and Tj are the temperature of the reactor and jacket, respectively. The temperatures are measured, A is known by geometry and the heat transfer coefficient, U, is calibrated for via an immersed calibration heater before and after the reaction.
Features
Available temperature range is -73°C to +230°C, pressure ambient to 2 bar
Reactors are borosilicate glass, 500 ml or 1 liter
Agitation via overhead stirrer with a conventional TeflonR bearing or magnetic drive
Glass or hastelloy stirrers and baffles (the latter for difficult to stir systems)
Automated reagent additions can be performed with integrated balances using positive displacement teflon diaphragm pumps or solenoid valves or dropping funnel with a solenoid valve and can also be slaved to pH.