Background
The Accelerating Rate Calorimeter (ARC) is a high thermal inertia adiabatic calorimeter that is used to obtain data regarding the relationships between time, temperature, and pressure for exothermic reactions. The ARC utilizes a 10 ml spherical test cell constructed of stainless steel, Hastelloy C, titanium, or tantalum. The pressure generated by a sample must be contained within the test cell. To accomplish this, ARC test cells use heavy walled test cells capable of withstanding pressures up to 3,000 psi or more. As a consequence, the thermal inertia, or phi-factor, of the system is relatively high. The combined mass of the sample and the test cell are kept adiabatic, not just the sample itself. For this reason, care must be taken when applying this data to large scale hazard evaluations.
The ARC can be run in two modes of operation. The first, and most common mode of operation, is heat-wait-search mode. In this mode, the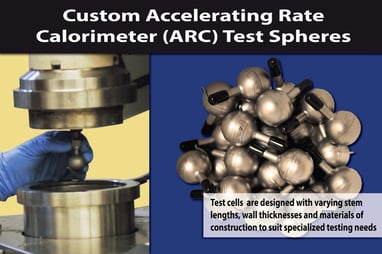 exothermic activity of the sample is monitored through a series of preprogrammed temperature steps. When a reaction is detected, the heaters are programmed to match the temperature of the system. The ARC can also be run in isothermal mode. In this mode, the system is heated to the desired initial temperature. The instrument can then be programmed to track a reaction if exothermic activity is detected or maintain the desired temperature.
Benefits
Data obtained using this calorimeter can be applied to evaluate the thermal hazard potential of reagents, reaction mixtures, intermediates, and products. The following safety parameters are attained, or can be evaluated, from Accelerating Rate Calorimetery:
Onset temperature
Temperature rise rate as a function of temperature
Pressure rise rate as a function of temperature
Adiabatic temperature rise
Heat of reaction
Adiabatic time to maximum rate
Temperature of no return
Self-accelerating decomposition temperature
Expertise/Solutions
Fauske & Associates, LLC (FAI) Accelerating Rate Calorimetry (ARC) contract testing service test protocol conforms to ASTM E 1981, "Standard Guide for Assessing the Thermal Stability of Materials by Methods of Accelerating Rate Calorimetry". A sample size of 0.5 to 10 grams is typically required for each test.