By Sara Peters, Marketing Specialist, Fauske & Associates, LLC
When an explosion and fire shook the sugar silo at Perfetti Van Melle candy factory in Erlanger, Kentucky in early December, it was a sobering reminder that hidden dangers can be found in the sweetest of places. Although the incident continues to be investigated, local investigators cite sugar dust in the silo as the likely culprit.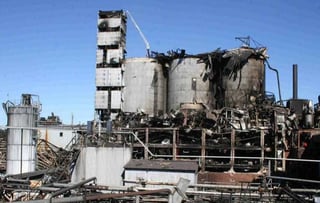 Now, the revelation that sugar can be combustible or explosible when dispersed into the air as a cloud is not a new one. Consider the incident at the Imperial Sugar refinery in Port Wentworth, GA in 2008 that caused massive damage to the facility and left 14 people dead and 36 people injured. In fact, the Chemical Safety Board, upon investigation of the events at Imperial Sugar, determined that "Imperial Sugar and the granulated sugar refining and packaging industry have been aware of sugar dust explosion hazards as far back as 1925." Despite all of the knowledge surrounding the combustibility of sugar, one can see from the event in Erlanger that it still poses a risk to any facility using it in their manufacturing process. Its threats, however, can be mitigated with the proper safety considerations.
Because sugar dust in the silo at Perfetti Van Melle is thought to be the source of the fire and explosion, this blog primarily looks at ways to address the dangers in these pieces of equipment. A bulk sugar silo poses a key risk of combustible dust becoming airborne during filling. This particular type of operation handles powder in quantities that are potentially sufficient to produce an ignitable mixture which can then transition to an explosion due to the confined space of the silo. Some suggested practices to mitigate the chance of a destructive event in a sugar silo or manufacturing facility with such a silo on site are listed below.
Conduct a detailed hazard assessment of the facility that includes not just the silo, but all areas of the facility (sifters, dust collectors, conveyers, bucket elevators, etc.). Based on the results of this review, protective measures should be put in place as necessary. Evaluate filling and emptying frequency and method as well as cleaning of the silo in order to assess the risk of fires and explosion in the equipment based on current practices.
Ensure explosion protection is in place for bulk sugar silos per NFPA 61, 6.3.1 unless a risk assessment determines that other protective measure adequately address the hazard. Installed explosion protection should be inspected during a hazard review to make sure it is adequate.
Verify silo bin venting to ensure it is appropriately sized to sufficiently handle air that is displaced during filling or emptying.
Test sugar for combustible characteristics such as Explosion Severity (KSt, Minimum Ignition Energy in a Dust Cloud, Minimum Explosive Concentration), as well as average particle size and moisture content. Although some general information on these tests as they relate to sugar can be gleaned from online or academic resources, it is always a best practice to assess these characteristics based on the properties of your specific powder.
Apply a combustible dust management program addressing employee training, control of ignition sources (static electricity, open flames, etc.) housekeeping, fire protection, inspection and maintenance of equipment, change management and emergency planning and response per NFPA 654 and NFPA 652. This program should be developed for safe handling of sugar and any other combustible particulate materials handled in the facility.
The events in Erlanger remain under investigation and it will be interesting to see the final results of the investigation. In the interim however, one has to ask, isn't one more explosion attributed to the dangers of sugar one too many?
Questions or thoughts? We invite your feedback. Contact Amy Theis at theis@fauske.com