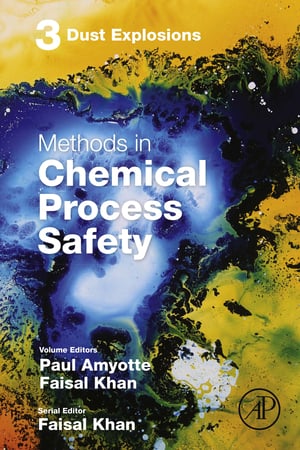 In Paul Amyotte and Faisal Khan's newest, Vol. 3 Methods of Chemical Process Safety: Dust Explosions published by Elsevier Academic Press, Dr. Ashok Ghose Dastidar contributes "Dust Explosions: Test Methods".
Per the book's preface, "Dust explosions are an ever-present threat wherever bulk powders are handled in the chemical process and other industries. They can be prevented, and their consequences mitigated, only by adopting an approach based on the principles of process safety.
This book is the third volume of the Methods in Chemical Process Safety book series. The book series intends to be a one-stop resource for both academic researchers and professional practitioners. It aims to publish the fundamentals of process safety science and leading state-of-the-art advances occurring in the field, while maintaining a practical approach for their application to industry. An international editorial board and authorship ensures that the book series depicts the latest research developments from around the globe. Each volume covers fully commissioned methods across the fields of process safety, risk assessment and management, and loss prevention.
The third volume tackles the dust explosion problem in a sequential manner over nine chapters covering: (i) an overview of the general field and the book organization, (ii) scientific and engineering fundamentals, (iii) illustrative examples and case histories, (iv) testing methods for acquisition of explosibility data, (v) dust hazard analyses conducted to identify the hazards of combustible powders, (vi) assessment of the probabilistic and consequence impact aspects of dust explosion risk, (vii) typical safety measures for dust explosion risk reduction, (viii) global regulations, standards, and guidelines, and (ix) explosion risks presented by nontraditional fuels including hybrid mixtures of flammable gas and combustible dust, as well as dusts that are nonspherical in shape, nano-scale in size, or present in additive manufacturing processes."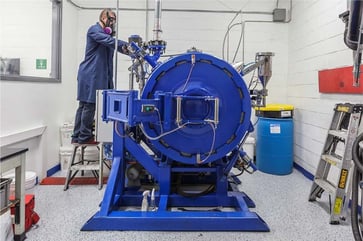 Dr. Ashok Ghose Dastidar, Vice President, Dust & Flammability Testing and Consulting Services, Fauske & Associates, LLC and Fellow Engineer, Westinghouse Electric Company provides Chapter Four - "Dust Explosions: Test Methods" for which he outlines:
Material identification
Sample identification and characterization
eactive as a cloud (deflagration)
Go/no go explosibility screening
Reactive as a pile or layer (combustion)
Burning behavior
Burn rate screening
Deflagration testing
Explosion severity (Pmax and KSt)
Minimum explosible concentration (MEC)
Minimum ignition energy (MIE)
Minimum autoignition temperature of a dust cloud (MIT)
Limiting oxygen concentration (LOC)
Combustion testing
Burn rate test
Layer ignition temperature (LIT)
Auto ignition screening (Grewer)
Hot storage screening
Exothermic decomposition screening
Smoldering gas evolution (L€utolf )
Concluding remarks
Illustrations and graphics depict the methodology and equipment used to determine deflagration characterization. How do you determine "Overdriving" vs. "Underdriving". What are the the "pot holes" of one test method over another? What differences do materials present in testing results? What combination of tests is best to mitigate design flaws?
These findings, together with other dust industry expert contributions such as dust explosions overview, fundamentals, serious concerns, hazard identification, risk assessment, safety measures, regulations, standards and guidelines and emerging or unique scenarios are all explored extensively in this important volume.
For more information and to purchase the book: https://www.elsevier.com/books/dust-explosions/amyotte/978-0-12-817550-7
If you are interested in learning whether or not your dust is combustible, use this flowchart to help you decide.