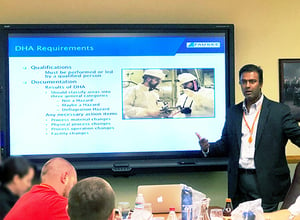 Dr. Ashok Dastidar teaching NFPA 652 Course
at Fauske & Associates, LLC
In this podcast "DSS 007: Dust Hazard Analysis and Explosion Prevention with Dr. Ashok Dastidar [dustsafetyscience.com]" Dr. Dastidar, PhD, Vice President of Dust & Flammability Testing and Consulting for Fauske & Associates chats with Chris Clooney, PhD, and founder of Dust Safety Science.Com. Dr. Dastidar has an extensive background in dust hazard analysis (DHA), being a member of several National Fire Protection Agency (NFPA) technical committees and the current chair of the ASTM E 27 committee on the hazard potential of chemicals. In this episode, he shares his knowledge and practical experience of DHAs and recommends ways that facilities can minimize their risk.
Dust Hazard Overview
A lot of time and resources are being dedicated to understanding combustible dust incidents, while the other side of the problem (prevention and protection) also needs to be examined. Specifically:
Measures to improve safety in industries handling combustible dust should be discussed
Resources that are currently available need to be identified and used
Training is needed on what inspectors and those employed in these industries should be looking for
Read more at https://dustsafetyscience.com/dust-hazard-analysis-ashok-dastidar/
Fauske & Associates, LLC recently developed a case study on a combustible dust explosion at a processing plant. We break down our approach to risk based inspection that was implemented to mitigate future hazards. Download the case study by clicking below.