Written By Ashley Foote, Engineer - Nuclear Services, Venky Viswanathan, Lead-Electrical Product Testing Line, and
Jacky Shoulders, Manager-Analytical Services, Fauske & Associates LLC
Introduction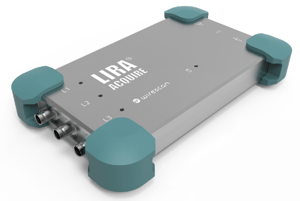 Fauske and Associates LLC (FAI) offers a cable condition monitoring program called "CHAMP" (Cable Health and Aging Management Program).
Cable Condition monitoring is essential to identifying potential points of failure, facilitate preventive maintenance and help assess remaining life of cables. CHAMP accomplishes this through:
Visual Inspections
Field testing (LIRA®, Tan Delta and Hi-pot)
Laboratory Testing (Elongation at break and AC breakdown)
About LIRA®
LIRA® (Line Impedance Resonance Analysis) is a non-destructive test method using Frequency Domain Reflectometry (FDR) to detect changes in cable impedance, and this can help identify degradation of insulation. LIRA® is manufactured by Wirescan, Norway.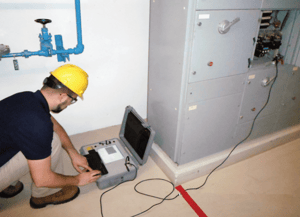 LIRA® is considered non-destructive as it uses a low voltage signal (5VDC). 5VDC does not weaken cable insulation as it is well within the cable's voltage rating.
LIRA® can pinpoint the location of degradation and cable splices with high accuracy.
LIRA® can detect cable damage caused by electrical discharge, thermal degradation, mechanical impact, water, oil and radiation.
Fauske's team of engineers are adept at using LIRA® for various applications from above ground tray cables to submerged or buried cables.
Fostering an innovative spirit and sound understanding of this technology, the Fauske team applied LIRA® to a completely new application - damage assessment of elevator cables.
Innovative Application of LIRA®
LIRA® is typically used to test electrical cables for damage. However, in this case we applied LIRA® to identify damage in elevator cables used for mechanical support. Our rationale was that elevator cables also have a metallic core covered by an insulation layer, much like an electrical cable. Hence, it should be possible to detect cable damage using LIRA®. At present we have achieved limited success with this approach. If you are interested in learning more about LIRA, contact us below!