By Jeff Griffin, Fauske & Associates, LLC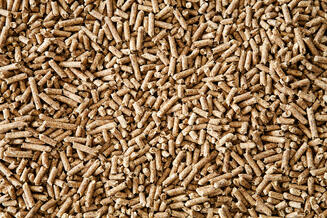 I had the chance to go the USIPA (US Industrial Pellet) conference this week in Miami. Aside from being a great location for a show, it was fascinating to hear how the wood pellet/biomass industry has been growing in the USA and Europe and to hear how companies are ramping up to increase production. Though the Biomass industry is relatively new, this year they had production of 10 MT alone and world demand for wood pellets is supposed to increase more than threefold by 2030.(1) Much of the production to meet this need will be in the US and Canada.
With such rapid growth, there are significant concerns about safety, both for workers and for the processes itself. Several of the speakers referenced how wood pellet production is a 'new' art. Unlike the Chemical industry, which has well defined processes and hazard mitigation, the pellet industry is still developing best practices for processing and production of their material. Coming from an engineering firm that specializes in process safety, this caught my attention.
The chemical industry had a series of explosions in the 1960's that drove innovation to appropriately test new materials and scale up production in a safe way. Fauske & Associates, LLC was one of the leaders of that process, and we developed technology to address process-scale-up concerns. While we continue to be a leader in that field – we have spent the last several years responding to the OSHA Combustible Dust NEP (2) by characterizing the explosive nature of materials through experimentation and providing on-site support to clients with combustible dust issues.
The wood pellet/biomass industry has not been immune to combustible dust concerns. There have been several events in recent years; some recent examples are listed below:
- 2009 – Geneva Wood Fuels LLC for six alleged serious violations of workplace safety standards following an August 2009 explosion at the wood pellet manufacturing plant in Strong, Maine (3)
- 2011 – Dust Explosion at Georgia Biomass due to overheated bearing (4)
- 2012 – BC Dust explosion for beetle-dried wood (5)
- 2013 – OSHA Cites New England wood pellet
Like the chemical industry in the 60's, the pellet industry is growing rapidly, and with that growth comes safety concerns. The raw materials going into the pellet making process needs to be well understood, and the production process needs to be appropriately assessed to ensure that risks are identified and controlled. Characterizing the hazards inherent to the raw materials and having expert support in assessing the risks associated with the process is essential for developing a sound safety program for pellet facilities.
The National Fire Protection Association (NFPA) provides guidance for handling combustible dusts. Standards like NFPA 664 guides safe dust handling in wood processing facilities. In addition, AdvancedBiomass.com also has a great summary of standards and mitigation controls. (6) Standards like NFPA 68 guide venting, and 654 guide prevention of fire and dust explosions. A new code, NFPA 652, (7) is currently in development and will be the overarching standard for managing combustible dust. While currently in a draft form, this code will require that facilities handling combustible dust have the following at a minimum:
- Test data is needed for the materials being processed
- A Process Hazard Analysis (PHA) needs to be conducted to ensure
- A dust management program needs to be developed and instituted
Pelletized fuels in a new and exciting area in the Biomass industry that is expanding rapidly. Rapid growth often coincides with modifying or creating new ways to increase output of existing process equipment to keep up with demand. These changes in processing will raise new questions about safety that will need to be addressed for the industry to succeed. Understand the risks present in processing their materials so they can safely scale-up their processes.
Fauske & Associates, LLC is a Chicago-based process safety engineering firm specializing in testing and consulting on material hazards. This includes combustible dust testing and on-site assessments per NFPA Standards. We have worked with several pellet companies to provide both testing and consulting services.
Sources
1http://www.renewableenergyworld.com/rea/news/article/2013/03/biomass-to-more-than-triple
2https://www.osha.gov/pls/oshaweb/owadisp.show_document?p_table=directives&p_id=3830
3 http://www.reliableplant.com/Read/23313/OSHA-cites-Maine-pellet-mill
4 http://industrialfireprevention.blogspot.com/2011/07/georgia-biomass-explosion.html
5http://www.cbc.ca/news/canada/british-columbia/dust-levels-flagged-before-b-c-sawmill-explosion-1.1240810
6http://www.advancedbiomass.com/2013/04/biomass-dust-fire-and-explosion-control/
7http://www.nfpa.org/codes-and-standards/document-information-pages?mode=code&code=652
For more information, please contact Jeff Griffin, Fauske & Associates, LLC, at griffin@fauske.com, or 630-887-5278.