by Mark Yukich, Customer Service and Business Development, Fauske & Associates, LLC
This blog was originally published in CAM Magazine's April 2019 Issue and has been republished with permission from the author. Click here to view

the original article
It is very possible that NFPA 652 and the requirement for a Dust Hazards Analysis (DHA) is something that general contractors, architects, engineers and many others in the construction industry have encountered during one of their projects. The overall impact of the NFPA standard is that a DHA is to be completed by September 7, 2020, where a facility has identified combustion materials present within their facility. The following will demonstrate what this standard means and how to address the standard effectively.
What Is NFPA 652?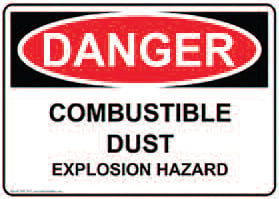 In NFPA 652, the term "Dust Hazards Analysis" or DHA is introduced when it was originally issued in 2015. This is designed to differentiate from the more complex Process Hazard Analysis or PHA required by the OSHA Process Safety Management (PSM) program for the chemical process safety industry. Industrial and academic experts in the area of combustible dust, fire and explosion safety guided the formation of NFPA 652. Its purpose is to give personnel a single source for information on the fundamentals of safe handling combustible dust and powders in an industrial setting. The standard also directs users to commodity specific standards such as the following, which offer material and production specific guidance:

• NFPA 654 – Prevention of Fire and Dust Explosions from the Manufacturing, Processing and Handling
of Combustible Particulate Solids
• NFPA 61 – Prevention of Fires and Dust Explosions in Agricultural and Food Processing Facilities
• NFPA 484 – Standard Combustible Metals
• NFPA 664 – Wood Processing and Woodworking Facilities

The principles discussed within NFPA 652 focuses on fuel containment, controlling ignition sources and limiting the spread of a combustion event by identifying potential risks in the process. These are the elements that can be found by conducting a DHA, which will need to be revalidated at least every 5 years.
When Will NFPA 652 Be in Effect?

NFPA 652 is an active standard, so steps should be taken right away to ensure that your facility is following the requirements. The deadline that was originally issued when NFPA 652 was first released in 2015 has been extended to take effect by September 7, 2020.

The reason for an implementation deadline for the DHA is to encourage that proactive actions are taken in completing the assessment. The NFPA standard is not requesting a shutdown or redesign of every industrial facility where combustible dust is present. The DHA will be used to encourage taking steps towards completing a DHA to perform risk identification within the facility to reduce the risk of a dust deflagration or explosion.


How to Start Compiling a DHA

Even though the deadline for the requirement has been pushed back, local authorities having jurisdictions (AHJs) are still expecting that there are steps being taken towards understanding your risks. Here are a few steps that you should consider when developing your DHA:
Hazard Identification – Do you need a DHA?

Have the fugitive dust being generated within your process tested to determine if your material is explosible (dust cloud) or combustible (pile or layer). If you find your material to be a potential risk for an explosible and/or combustible event, you are required to document a DHA within your facility.

OSHA offers other combustible dust and ignition source control recommendations, as well as guidance on injury and damage control methods. The following are some key recommendations, presented in no particular order:

• Enforce a program that includes dust inspections, testing, housekeeping and ignition source control
• Use appropriate dust collection systems and filters
• Limit escape of dust from equipment or ventilation systems
• Use surfaces that limit dust accumulation and ease cleaning
• Regularly check for dust residue in all areas, including hidden locations
• Clean without creating dust cloud around ignition sources
• Operate vacuum cleaners certified for dust collection
• Use appropriate electrical equipment
• Keep heated surfaces and systems away from dust
• Create an emergency plan
Once your team has reviewed the items in the list above, you have taken foundational steps towards starting your DHA. These items can give you a good idea for mitigation steps that need to be implemented. A good place to start while developing your team is to have a group of people with a working knowledge in each individual phase of the process. Have your team focus on answering 6 fundamental questions:

1. What does "normal" look like for the process?
2. What can go wrong with the process and how?
3. How bad and how likely can that "event" be?
4. What protections currently exist to avoid the "event"?
5. What is the risk of continuing to operate the process as it stands now?
6. Is additional protection warranted, if so, what?


Where to Focus within Your Facility?

When determining the hazard identification of your process, you want to focus on areas where there is fugitive dust escaping from the process and settling on elevated surfaces. If you have a dust collector, this is the first place to start by pulling sample from the filter media or the bin below the dust collector. This is where you can pull the roughly 1-2 pounds of sample needed to run the testing needed.

If you have a dust collector, you want to review the facility to make sure that the proper fugitive dust collection is in place and is properly limiting the amount of dust being generated outside of the point of collection. In a process area where dust collection is not present, take the time to determine how the dust is being generated and where the material is settling on elevated surfaces, like i-beams and light fixtures.

Ideally, you want to have one team member that is assigned the role of team lead and meeting facilitator who has experience conducting a DHA. Once the review is completed, you want to document the information obtained in the analysis. The goal is to move forward and continually walk through the process to ensure recommended safety measures are maintained and if any adjustments are needed. Another key component is to pass on the information gathered to your team, so that they know the hazard to be aware of and ensure the safety measures are continually implemented after personnel changes. In short, this is not a linear activity, but a cyclical one that is repeated continually for the life of the process.

Why Complete the DHA at your Facility?

The requirement established in NFPA 652 is one good reason to complete the DHA, but the safety of your employees and facility should be the primary reason. OSHA currently follows NFPA standards to ensure that a facility is staying safe while handling explosible and/or combustible materials. Currently, OSHA will point to The General Dust Clause, Section (a) (1) of the OSHA standard to enforce safety guidelines for combustible dust safety.

Taking on a DHA for your facility can be a daunting task, but it is one that is necessary to recognize any potential hazards. However, if you take it one process and one step at time, you can make your way towards having a safer operation. The DHA should develop a plan of action to maintain good housekeeping, safety training to your employees and properly protected equipment and electrical components. Your employees are a great resource to utilize where safety measures may need to be explored. Take the proactive steps towards a safer operation in your facility today.
About the Author:
Mr. Yukich supports the Customer Service and Business Development efforts across all of Fauske & Associates' business units and specializes in Combustible Dust and On-Site process safety consulting. Mark will be at the Michigan Safety Conference April 16-17 in Grand Rapids at booth # 315. Yukich@fauske.com 630-887-5788.


CAM Magazine is published monthly by the Construction Association of Michigan, 43636 Woodward Ave.,
P.O. Box 3204, Bloomfield Hills, MI 48302-3204 (248) 972-1000.