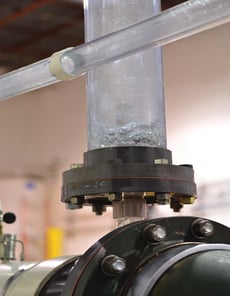 Gas accumulator during a
two-phase flow experiment.
It is important to know how to analytically model a system and related phenomena and then validate the analytical model with experimental data. Fauske & Associates, LLC (FAI) has a long history of thermal hydraulic testing and analysis and state-of-the-art laboratories that can be used for full-scale industrial testing services of power plant components and systems.
Many plant processes involve fluid flow combined with heat transfer. This can include phenomena such as phase change, condensation, two-phase fluid flow, critical flows, gas transport and more. Key large scale examples include nuclear plant integrated system transient and accident response, evaluation of containment and compartment conditions following pipe break events, waterhammer evaluation and severe accident analysis. Smaller scale examples include characterizing localized phenomena such as tank and sump vortex behavior, suction strainer performance, thermal mixing in piping and transient thermal response of cables to over-current conditions, to name a few.
FAI engineers regularly utilize RELAP5 (a code developed by Idaho National Labs) for thermal hydraulic safety analysis, including pre-test prediction and post-test evaluation. Major experience includes extensive piping dynamic loads evaluations for AP1000® systems as well as system evaluations on operating nuclear plants in the U.S. and overseas.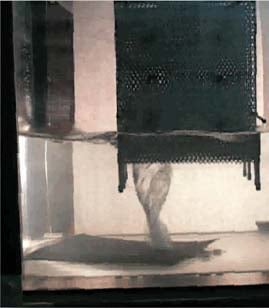 FAI's VEXTORTM suppresses vortex formation, thereby improving the operation of fluid tanks and reservoirs under a wide range of conditions. By preventing swirl flows air intrusion and degraded pump operations will be minimized and even prevented.
FAI Thermal Hydraulics testing and analysis labs and engineers provide:
Experimental Investigative Operational Support
Acoustic Analysis
Air Intrusion
Containment Sump Performance
Two-Phase Critical Flow
Waterhammer and Related Hydrodynamics
High-Pressure Subcooled Jet Depressurization and Jet Impingement
One-Phase Plume and Jet Mixing Analysis
Fluid System-Specific Transient Analysis
Vortex Behavior
Emergency Response
RELAP
Full scale testing of containment spray system conducted in one of FAI's laboratories.
If you are interested in reading more about thermal hydraulics, check out our paper on waterhammer modeling in thermo-hydraulic systems below.