The flammability limits for a fuel-oxidizer consist of a lower flammable limit (LFL) and an upper flammable limit (UFL).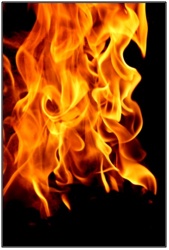 Flame propagation will not be supported if fuel concentrations are either below the LFL or above the UFL in an oxidizing atmosphere. However, concentrations of mixtures in between these two limits will result in the formation of a flammable atmosphere and a possible fire or explosion could occur. The Flammability limits of a fuel-oxidizer are similar to the autoignition temperature, in that they are also dependent on numerous conditions: temperature, pressure, ignition source, vessel size and geometry, direction of flame propagation, inerts or oxidizer, and mixture composition. Caution needs to be taken in determination of the flammable limits as a result of the numerous factors that affect these measurements. Therefore, it is important to determine these limits as close as possible to actual process conditions as well as taking those other factors into consideration in the test design.
Determination of these limits will not only provide an understanding of the possible safety hazards present in operating at certain conditions but also provide useful information on how to safely operate a process outside of the flammable region. Sometimes it is not always cost effective to operate large scale processes under an entirely inert environment; therefore, knowledge of the flammability limits may provide some flexibility on process operations.
Relevant standards FAI currently conforms to:
ASTM E681 "Standard Test Method for Concentration Limits of Flammability of Chemicals (Vapors and Gases)"
ASTM E918 "Standard Practice for Determining Limits of Flammability of Chemicals at Elevated Temperature and Pressure"
EN 1839 "Determination of explosion limits of gases and vapors"