Since it is not a CFD code, FATETM can be used to model the entire reactor auxiliary building without being computationally expensive. Because it uses a two-layer model to track gas stratification in individual nodes, FATETM has technical advantages over other lumped parameter codes. This allows the code to predict hydrogen stratification in the containment and reactor auxiliary building.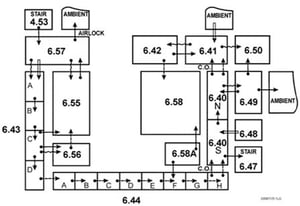 FATETM can be used to model all the reactor auxiliary building rooms outside containment in order to:
Predict facility response to accidents that involve the release of hydrogen or contamination outside containment
Analyze fires and smoke migration (which has broad applicability to almost any facility)
Key results of the analysis include the time history of room and corridor habitability and the potential for flammability and its consequences. FATETM is uniquely suited to nuclear facilities because in order to track smoke and contamination, it combines models for temperatures, pressures, flow rates and structural response with models for aerosol release, transport and deposition.
FATE TM has a unique combination of models for reactor auxiliary building accident response evaluation:
Hydrogen behavior is realistically modeled via source plumes and stratification consideration to predict flammability potential
Fire and explosion models predict consequences for damage
Temperatures in rooms account for density stratification and temperatures of walls and equipment are evaluated in multiple dimensions
Time-dependent habitability of corridors and rooms due to smoke, steam and contamination hazards includes the effects of doorway configuration and ventilation systems