Whether a novice or a pro in the combustible dust arena, there are courses available at your site, at our state of the art labs or near you. Our CEU accredited courses make it easy in interactive 1 or 2 day sessions. Next stop, Boston, August 29-30!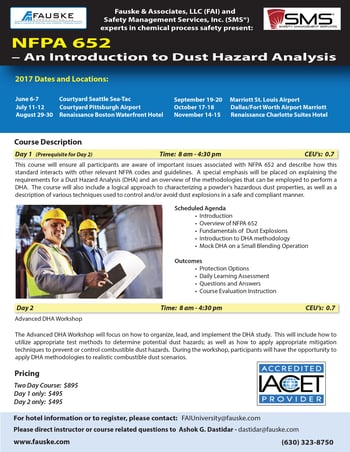 The introductory course explains the NFPA 652 requirements for a Dust Hazard Analysis (DHA) and an overview of the methodologies that can be employed to perform a DHA. The course also includes a logical approach to characterizing a powder's hazardous dust properties, as well as a description of various techniques used to control and/or avoid dust explosions in a safe and compliant manner.
The Advanced DHA Workshop focuses on how to organize, lead, and implement the DHA study. This includes how to utilize appropriate test methods to determine potential dust hazards; as well as how to apply appropriate mitigation techniques to prevent or control combustible dust hazards. During the workshop, participants will have the opportunity to apply DHA methodologies to realistic combustible dust scenarios.
FAI designed these introductory and advanced courses for personnel including − but not limited to − chemists, engineers, technicians, plant managers and operational staff in R&D, process development, kilo, pilot and full-scale production in the chemical, manufacturing, nuclear, petrochemical, food, cosmetic, plastic and polymers, metals, agricultural and pharmaceutical industries to educate on compliance, safe operations and severe accident mitigation. Taught by experts from our staff as well as guest specialists in their respective areas, customers can choose from our existing courses or we can tailor courses for the requirements of the learners through engaging and informative material in a comfortable classroom or lab setting.
FAI is accredited through International Association for Continuing Education and Training (IACET) and FAI University course attendees are awarded CEUs upon meeting all the necessary requirements. FAI University offers a wide array of training courses globally to augment our customized testing, engineering and consulting services.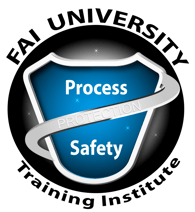 For hotel information or to register, please click on the course brochure, contact: FAIUniversity@fauske.comPlease direct instructor or course related questions to Ashok G. Dastidar - dastidar@fauske.com