Structural engineering is an important field of engineering that deals with the integrity of objects such as plant components or structures. For example, Fauske and Associates, LLC (FAI) employs several structural engineers that serve the industry by performing analytical assessments, experiments, walkdowns or numerical modeling. We specialize in supporting industrial process facilities and power plants.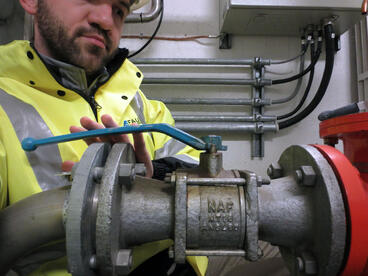 In plants, the structural challenges are often related to pressure, temperature and dynamic forces. An example is the seismic adequacy of piping or components under power operation. FAI engineers perform seismic walkdowns on a regular basis to screen for the seismic adequacy of systems. We are able to follow industry guidelines such as EPRI 1019199 "Experience-Based Seismic Verification Guidelines for Piping and Tubing". In addition, we have developed our own seismic screening methodology which provides an even more cost effective and conservative assessment approach. Several of our engineers and contractors have undergone professional seismic training certification which also enables us to assess safety-related electrical components such as instrumentation and control components etc.
States Jens Conzen, Manager Structural Services & Vibration for FAI, "As we are supporting plant modernization and power uprate projects we have to utilize all facets of structural engineering. We have seen an increasing demand for vibration analyses, for example. FAI has the know-how to effectively study the cause of the vibration and to propose solutions for elimination or mitigation. Our engineers are available for on-site support which includes measurement, troubleshooting and root cause analysis in a team setting together with the client."
Proper application of structural engineering expertise can help mitigate issues by ensuring that the plant and components are properly engineered. This will avoid machinery breakdown and costly plant outages. "We strive to support our customers to achieve a safer and more efficient work environment along with enhanced plant durability," adds Conzen.
FAI has a broad range of expertise in this area gained from several international projects, able to provide a one-stop-resource for structural engineering issues including analyzing problem, engineering a solution, verification, as well as oversight of fabrication and installation, as required.
On-Site Structural Evaluations
Seismic Engineering (SQUG Trained)
Plant Walkdowns (Industry Guidelines or Customized Acceptance Criteria)
Power Uprate Support
Root Cause Analysis
Piping and Equipment Evaluation
Flow Induced and Mechanical Vibration Analysis
Measurement Solutions for Harsh Environments
Finite Element Analysis (FEA)
Damian Stefanczyk, Manager of Thermal Hydraulics Services,Karim Dhanji, Mechanical Engineer, Structural Services & Vibration and Conzen of FAI completed the SQUG A46 Walkdown Screening and Seismic Evaluation Training Course. This training certifies each as Seismic Capability Engineers and enables them to perform and audit seismic evaluations for safe shutdown equipment in nuclear facilities.
The Seismic Qualification Utility Group (SQUG), organized under the auspices of the Electric Power Research Institute (EPRI), collects, evaluates, and facilitates the use of earthquake and testing experience data on behalf of its member companies.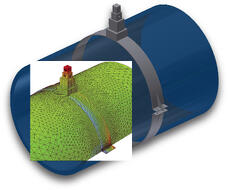 FAI's patented pipe clamp for vibration measurement allows more accurate measurement in situations where transducers cannot be mounted directly to the pipe. The real vibration is monitored rather than the amplified value.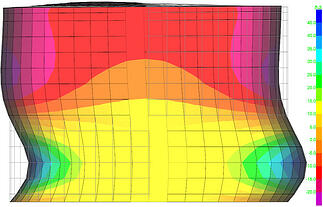 Response spectrum analysis of a water tank.
For more information on structural vibration analysis or other plant safety concerns, contact us at info@fauske.com