By Zachary Hachmeister, Chief Operating Officer, Fauske & Associates, LLC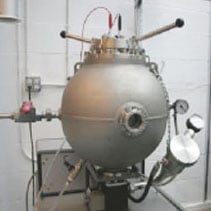 20 Liter Chamber
NFPA 652 provides a prescriptive approach and a performance based approach as compliance options to mitigate dust explosion hazards. The prescriptive approach requires that air-material separators with a dirty side volume greater than 8 ft3 are equipped with explosion protection. Air-material separators with dirty side volumes less than 8 ft3 do not require explosion protection to achieve compliance with NFPA 652. This volume exemption also applies to other process equipment with small volumes (< 8 ft3).
The 8 ft3 exemption does not mean that an explosion hazard does not exist. In fact, the majority of data used for addressing dust explosion hazards is generated in a test apparatus with a volume of 20 L (~0.7 ft3). The exemption exists because it can be difficult to provide these small vessels with explosion protection equipment and that the hazard risk is considered to be modest. As an illustration, let us assume an 8 to 1 volumetric expansion from a typical dust deflagration, an 8 ft3 enclosure (sphere with a radius of 1 ¼ feet) can produce a fireball with a volume of 64 ft3. If the fireball is spherical then the radius would be ~2.5 ft. Therefore, the decision to strike a balance between the economic impact and potential consequence justified the exemption.
The important take away is; per NFPA, you're not required to protect these small volume units. However, we would strongly encourage to take a risk based approach when making this decision. This approach should include (but not limited to) consideration of consequences to personnel, property, and operations and probability of ignition give the ignition sensitivity of the material and how the equipment is being used.
Hopefully, this provides some clarification to a frequently asked question. If you'd like to learn more about dust hazard analysis and mitigation, check out FAI's 3 Step Approach by clicking below.