By Ashok Dastidar, PhD MBA, Vice President, Dust & Flammability Testing and Consulting Services, Fauske & Associates, LLC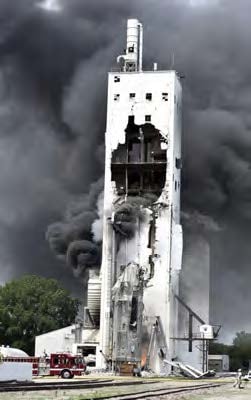 Grain Silo Explosion
Photo by Tim Hynds,
Sioux City Journal
Count Morozzo from the Academy of Science in Turin investigated the incident to conclude that the explosion was caused by the flour dust suspended in the air and not gases generated by mold or fungus eating the flour. Dust explosions are very common in industry. They occur in all industries from wood working, sawmills, pharmaceutical plants, chemical plants; and more importantly for this discussion at agricultural facilities.
In April of 1980 there was a large explosion at a grain terminal in Saint Joseph, MO. One person was killed and four were injured. An electric arc from a damaged level indicator initiated an explosion in one of the silos. The explosion traveled through the headhouse to the other silos and caused over two million dollars in damages. Later, in June of that same year an explosion occurred at a river grain terminal in Saint Paul, MN. Luckily there were no fatalities but 13 workers were injured. An electrician was working on live electrical circuitry while grain loading operations were taking place. The arc from the electrical work initiated an explosion that traveled along the tunnel to the headhouse and through the bucket elevator to the other tunnels resulting in $300, 000 in damages. A month later in Fonda, IA an explosion occurred at a train-loading country grain terminal where electrical welding on a bucket elevator initiated an event. No one was killed or injured in that event.
Nine months later in April 1981 a large explosion at an export grain silo plant in Corpus Christi, TX killed nine people and injured 30. Smoldering lumps of grain entered a bucket elevator and initiated a dust cloud explosion. The resulting explosion propagated to other elevators, and then onto the headhouse, tunnels, conveyers and silos, resulting in thirty million dollars of damage.
It was after this last event that the Occupational Safety and Health Administration (OSHA) released the "grain handling standard" 29CFR1910.272 in 1987. This standard is the backbone of the government's safety program to protect grain elevators, feed mills, flour mills, rice mills, dust pelletizing plants, dry corn mills, soybean flaking operations, and the dry grinding operations of soy cake from violent dust explosions. Some of the key requirements of the standard are that employers develop an emergency plan to deal with dust explosions, train their employees and contractors to recognize dust explosion hazards and safely work in that environment, establish a hot work permit system to minimize potential ignition sources, keep fugitive dust at bay with a documented housekeeping program, and requirements for emergency escape. Additionally, it provides requirements for the safe use of driers, bucket elevators and air filtrations systems.
This standard, according to OSHA's figures, has been effective. The average number of grain elevator explosions has decreased from 20 per year in the 70's and 80's to 13 per year in the 90's and to less than 8 per year in the 21st century. However, that still amounts to 503 incidents between 1976 and 2011 with 677 injuries and 184 fatalities in that time. The latest incident to occur is the Andersen
Farms Inc. grain elevator explosion in South Sioux City, Nebraska, on Tuesday, May 29th of this year. The accident resulted in one fatality and one injury. The cause of the event is still under review.
Compounding this great tragedy is that the OSHA standard that would have kept the employees safe does not apply to family-farm owned facilities with less than 11 non-family employees. As a result they cannot enforce the 29CFR1910.272 at the facility or investigate the incident.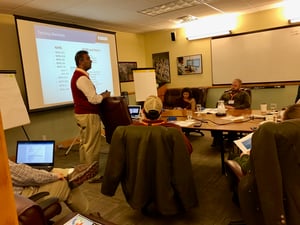 Dr. Ashok Dastidar teaches Intro NFPA 652 Course and Advanced DHA Workshop
What potentially could have kept the employees safe and avoided the accident is enforcement of the Nebraska Fire Code, Title 153 and the Grain Elevator Fees and Guidelines, Title 161. Both these documents have adopted NFPA 61 "Standard for the Prevention of Fires and Dust Explosions in Agricultural and Food Processing Facilities" and reference it for safety inspections. Compliance with NFPA 61, a document that greatly influenced the OSHA standard, would have reduced the risk of a catastrophic explosion. NFPA 61 is one of the oldest NFPA standards dating back to 1923 and was initially developed to prevent dust explosions in grain terminals and flour mills. Gradually, over time, the standard was combined with other NFPA documents to become a universal fire and dust explosion prevention and protection standard for agricultural and food facilities. The document has a long history and is adopted by most state and local fire codes. Therefore, state/ local building inspectors and state fire marshals should be very familiar with the document and on how it should be enforced.
Additionally, many insurance carriers require agricultural facilities to comply with NFPA 61 for property loss and business interruption protection. These companies have engineers and inspectors who are trained in the NFPA 61 requirements and frequently audit facilities for compliance before offering them insurance coverage. They can spot deficient housekeeping, or bad hot work/electrical work practices or building/machinery construction without explosion/fire protection. Their enforcement of NFPA 61 as an authority having jurisdiction can greatly reduce the risk of an explosion or fire.
With these three layers of protection; the OSHA Grain Handling Standard, State Fire Codes that adopt NFPA 61 and insurance companies that require NFPA 61 compliance for coverage to be offered, why do we still have explosions in the grain industry? Even if one of these three layers were to fail; for example, the OSHA standard not being enforceable on small family-farm facilities, the other two layers of protection should be able to catch any deficiencies and protect workers and the surrounding community.
Need help evaluating your facility's combustible dust hazards and how it fits into your overall Process Safety Managment (PSM) plan? Check out the details for our 2 day Dust Hazard Analysis Course below.