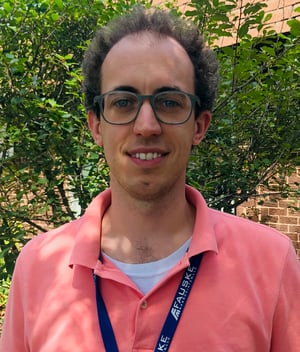 Fauske & Associates, LLC (FAI) welcomes Dr. Giovanni Maronati, PhD as its newest Senior Engineer in Nuclear Energy & Waste Management. Dr. Maronati is responsible for thermal hydraulic analysis of nuclear power plant systems, modeling and simulation of water hammer phenomena through RELAP5 and GW2 as well as evaluation and mitigation of severe accidents at nuclear power plants.
With extensive research for Westinghouse Electric Company, Argonne National Labs and Georgia Institute of Technology, Dr. Maronati has experience in RELAP5 simulations of light water reactors and advanced reactors, Dymola modeling of nuclear reactor thermal-fluid systems and control systems, and development of automated diagnostic methods for thermal-fluid systems of nuclear power plants.
Dr. Maronati has developed a nuclear power plant capital cost evaluation code for the US Department of Energy, performed risk analysis of nuclear reactor construction, and assessed capital cost savings due to plant seismic isolation. He has performed criticality and depletion analyses of the eVinci micro reactor through MCNP, evaluating different fuel and core materials. He has also been responsible for thermal hydraulic design and optimization of a light water reactor passive decay heat removal systems.
He received a PhD in Nuclear Engineering from Georgia Institute of Technology in 2018 and a MS in Nuclear Engineering and BS in Energy Engineering from Polytechnic University in Milan in 2014.
Fauske & Associates, LLC is a scientific engineering consulting firm specializing in the application of fundamentals to the resolution of technical problems in the chemical process and nuclear industries. The principals and staff of FAI are recognized worldwide for their phenomenological modeling related to prevention and accommodation of chemical and nuclear plant accidents.
The combination of engineering expertise, broad safety experience, and extensive laboratory testing facilities makes FAI uniquely qualified to solve complex industrial problems. Our test equipment and software products are integral to process safety programs throughout the world.