Back for the months of August and September: FREE combustible Dust webinars from Fauske & Associates, LLC!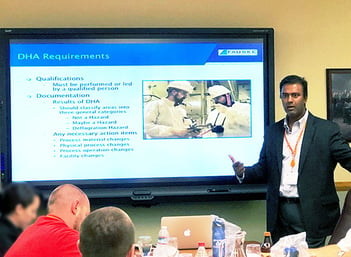 Dr. Ashok Dastidar, MBA, VP of Combustible Dust and Flammability Testing and Consulting, will be hosting two introductory courses this summer. Each 1-hour course is free to attend and limited to the first 100 attendees! Each course will also include 1-hour of Q&A following the presentation. The courses will start promptly at 10 AM Central Time.
Please register to secure your spot!
Wednesday, August 18th Dust Testing Overview - This course serves as an introduction to combustible dust and the hazards that are present in many industrial facilities. The course will cover what kinds of hazards to look for, the different ways that fires and explosions can occur, and various other related topics. The course will also include some examples of mitigation strategies and testing services that can help you minimize your risk of a combustible dust related accident.
Wednesday, September 1st Introduction to NFPA 652/Dust Hazard Analysis (DHA) - This course will serve as an introduction to NFPA 652 and describes how this standard interacts with other relevant NFPA codes and guidelines. The course will discuss Dust Hazard Analysis (DHA) and provides an overview of the methodologies that can be employed to perform a DHA. The course will also include a logical approach to characterizing a powder's hazardous dust properties, as well as a description of various techniques used to control and/or avoid dust explosions in a safe and compliant manner.
Sign up now on our website at the following link and select the date of the course you would like to attend: https://www.fauske.com/webinar-registration
Space is limited, but we look forward to seeing as many as we can during these courses!