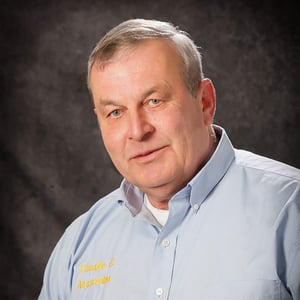 Chief Engineer Kevin Ramsden provides extensive engineering consulting services to the Nuclear Engineering Group of Fauske & Associates, LLC (FAI). His experience includes 31 years with Exelon Nuclear in reactor safety analysis and corporate engineering departments. He has been with FAI since 2008. His duties include performance of calculations and design reviews, development, construction, and analysis of test apparatus. As Chief Engineer, he has the additional responsibility to ensure safe conduct of testing and also has responsibility for mentoring and training engineers.
Mr. Ramsden has extensive experience with Reactor Safety Analysis computer codes and methodology for both BWR and PWR reactor designs. His computer code experience includes MAAP, RELAP5, GOTHIC, RETRAN, HEATING7, COBRA, VIPRE, CONTEMPT and FREY. His work at FAI has included CRD Thermal Fatigue Evaluation, waterhammer testing (PA-451), Acoustic testing, LOCA EQ testing, and the development and application of analytical evaluation methodologies to plant issues. He has provided extensive support to power uprate activities at OKG Unit 3, including power ascension testing and troubleshooting. He also provides independent third party review services for a wide range of thermal hydraulic and acoustic issues. He received a Bachelors of Science degree in Mechanical Engineering from Illinois Institute of Technology.
We honor Mr. Ramsden and the host of chemical, nuclear and mechanical engineers here, at world leading FAI, a wholly owned subsidiary of Westinghouse Electric Company, LLC. Fauske & Associates, LLC is a scientific engineering consulting and testing firm specializing in the application of fundamentals to the resolution of technical problems in the chemical process and nuclear industries. The principals and staff of FAI are recognized worldwide for their phenomenological modeling related to prevention and accommodation of chemical and nuclear plant accidents.
The combination of engineering expertise, broad safety experience, and extensive laboratory testing facilities makes FAI uniquely qualified to solve complex industrial problems. Our test equipment and software products are integral to process safety programs throughout the world. FAI is also recognized for conducting comprehensive plant evaluations. FAI's Nuclear Systems Group helps its customers enhance the availability and reliability of their operating plants while maintaining regulatory compliance, extending plant life and reducing operation and maintenance costs. With regard to industrial safety, FAI is a leader in the dust explosivity/combustibility and process safety areas including Dust Hazards Analysis (DHA). In addition to parts and laboratory testing, on-site consulting services are a key customer request for FAI.
Happy National Engineers Week to all the great ones who keep us safe and sound!
FAI is a world leader in process safety. If you are interested in staying up to date on the latest news and insights, subscribe to our blog below.