By Guest Blogger Bryan Christiansen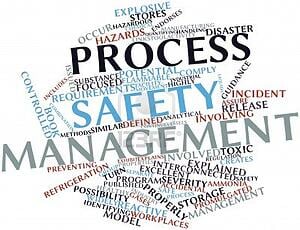 For an operation that deals with hazardous substances, the requirement to maintain proper Process Safety Management can be a heavy load. The PSM program forces the business to adhere to specific system practices. But these procedures instill sound business practices that improve the operation on more fronts than just safety. Risk reductions result in cost avoidance, but good operating methods improve efficiency and reduce downtime.
An effective PSM program involves the entire operation. As such, maintenance is key component of a PSM program. The maintenance team should be involved in any major PSM activity.
Among the practices that a PSM program drives are mechanical integrity, management of change process, pre-startup safety review, and incident investigation. These components require leadership or at least heavy involvement from the maintenance side. A strong maintenance management system must be in place for a proper PSM program.
Mechanical Integrity
As Mechanical Integrity (MI) is a required portion of PSM, programs have been in place for decades. The careful process of inspection and testing of critical process equipment has been worthwhile for many operations.
An MI program is enhanced heavily by an effective Computerized Maintenance Management System (CMMS). This allows the business to keep its records up to date and maintain detailed information about its assets. As the business does not want to lose the history of its equipment and maintenance procedures, the CMMS can provide a great solution.
Of course, there can be a fine line to an MI program. You do not want your maintenance staff spending all their time testing the drinking fountain pipes, for example. The pressure to do more maintenance activities with less is always an issue for a maintenance manager.
This is where programs like Maintenance Optimization Modeling come in. This process develops a model of the process and its components. Using the model, an operation can optimize the maintenance schedule and spare parts for its critical equipment.
Pressure Management Systems
One of the most important parts of an MI system in a pressurized operating environment is the relief valve. This critical component is the "last line of defense" against rupture or explosion in many processes. Accordingly, it is vital to maintain them properly. It is also of considerable importance to utilize proper design parameters. To help with this process there are software solutions available.
MOC Participation
Management of Change (MOC) is a fundamental element of PSM. It is important to gather all stakeholders in each MOC meeting – this includes the the maintenance team. In voicing their opinions and concerns about the change, maintenance staff help to keep their jobs safer and easier. They also tend to present a more long-term approach in thinking, as they are the ones dealing with aging equipment every day. Longer term tactics help to drive future value to the operation.
Pre-Startup Safety Review
A Pre-Startup Safety Review (PSSR) acts as a final checklist ensuring proper safety of equipment before startup after a major change. It often is the last step on the MOC practice, and once more maintenance plays a vital role in this process. Following the appropriate steps and documenting them becomes a part of the forthcoming operation.
Investigations
As incident investigation is another requirement of PSM, proper investigations will need to be conducted after any incidents. Again, the maintenance team will have to be involved with any equipment failures. The CMMS can also play a large role when digging up equipment records. A valuable investigation concludes with incident root cause determination. Subsequently when the root cause is corrected, the maintenance system often comes into play in either adding procedures or changing equipment. When root causes are corrected, the business often improves through more reliable operations.
Conclusion
Process Safety Management is not only an effective means of keeping workers safe, it also instills good business practices for an industrial operation. Maintenance management is key to a proper PSM program and helps to drive additional value out of the system.
Bryan Christiansen is the founder and CEO at Limble CMMS. Limble is a modern, easy to use mobile CMMS software that takes the stress and chaos out of maintenance by helping managers organize, automate, and streamline their maintenance operations.