By Sara Peters, Senior Communications & Brand Specialist, Fauske & Associates, LLC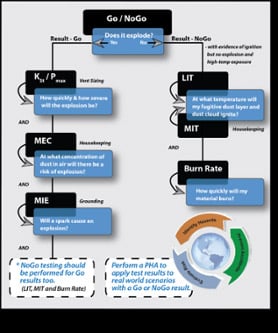 According to the 2018 Mid-Year Combustible Dust Incident Report published by Dustex Research, Ltd., "Dust collection equipment is the leading cause of combustible dust incidents with an average just over 20% since 2016."
Since the purpose of a dust collection system is to impart safety and efficiency in a manufacturing facility that produces dust, this statistic further reinforces the need to ensure that your equipment is properly configured for your unique situation. Some important first steps to consider as you look at your system include:
1. Identify the materials handled by a dust collector
2. Conduct a Go/NoGo Explosibility Screening Test and VDI 2263 burning behavior test to determine if the materials burn or are explosible
3. If the sample is a "Go", determine the KSt and Pmax values with an Explosion Severity Test
4. If the sample is determined to have a low KSt value (< 50 bar-m/s), perform a 1m3 screening test to validate that the material is indeed combustible
What Do These Tests Tell You?
The Go/NoGo test tells you if the sample is combustible in dust cloud form. The VDI 2263 burning behavior test tells you if the sample burns. The Explosion Severity Test (KSt and Pmax) quantifies how energetic the explosion could be. Once you have this information, we can provide calculations necessary for your dust collector provider to incorporate the proper explosion protection parameters into their equipment design.
Next Steps
Once you KNOW your dust is combustible, you need to ensure that you are handling it properly throughout the process. After the basic tests, more in depth testing as illustrated by the flowchart may be needed.
Ensuring the safety of your dust collection system is only one part of a sound combustible dust management program. A Dust Hazard Analysis (DHA) to evaluate the potential fire or dust explosion hazards in a process, document how the hazards are managed and identify mitigation steps may be beneficial as well.
A state of the art, independent combustible dust testing lab can assist you with your comprehensive combustible dust management program.