We have the pleasure of attending the National Safety Council Congress & Expo in San Diego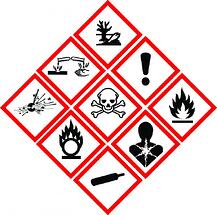 this week (booth #3963). Among the many great topics is the one headlined here. With ever changing regulation and deadlines, customers often ask about the future of their chemical requirements. So, let's revisit:
According to the 2012 changes to OSHA's Hazard Communication Standard (29 CFR 1910.1200), regulations bring the U.S. into alignment with the Globally Harmonized System of Classification and Labeling of Chemicals (GHS), improving safety and health protection for America's workers. These new revisions were and are expected to prevent injuries and illnesses, save lives and improve trade conditions for chemical manufacturers. The Hazard Communication Standard in 1983 gave the workers the 'right to know,' but the new Globally Harmonized System gives workers the 'right to understand.'
The new Hazard Communication Standard still requires chemical manufacturers and importers to evaluate the chemicals they produce or import and provide hazard information to employers and workers by putting labels on containers and preparing safety data sheets. However, the old standard allowed chemical manufacturers and importers to convey hazard information on labels and material safety data sheets in whatever format they chose. The modified standard provides a single set of harmonized criteria for classifying chemicals according to their health and physical hazards and specifies hazard communication elements for labeling and safety data sheets.
Major Changes to the Hazard Communication Standard:
Hazard Classification - Chemical manufacturers and importers are required to determine the hazards of the chemicals they produce or import. Hazard classification under the new, updated standard provides specific criteria to address health and physical hazards as well as classification of chemical mixtures.
Labels - Chemical manufacturers and importers must provide a label that includes a signal word, pictogram, hazard statement, and precautionary statement for each hazard class and category.
Safety Data Sheets - The new format requires 16 specific sections, ensuring consistency in presentation of important protection information.
Information and Training - To facilitate understanding of the new system, the new standard required that workers be trained by December 1, 2013 on the new label elements and safety data sheet format, in addition to the current training requirements.
What You Need to Do and When:
Chemical Users - Continue to update safety data sheets when new ones become available, provide training on the new label elements and update hazard communication programs if new hazards are identified.
Chemical Producers - Review hazard information for all chemicals produced or imported, classify chemicals according to the new classification criteria, and update labels and safety data sheets.
Effective Completion Date

Requirement(s)

Who

December 1, 2013

Train employees on the new label elements and SDS format.

Employers

June 1, 2015

December 1, 2015

Comply with all modified provisions of this final rule including reclassifying chemicals, send SDS & Labels in GHS format, except:

Distributors may ship products labeled by manufacturers under the old system until December 1, 2015.

Chemical manufacturers, importers, distributors and employers

June 1, 2016

Update alternative workplace labeling and hazard communication program as necessary, and provide additional employee training for newly identified physical or health hazards.

Employers

Transition Period

Comply with either 29 CFR 1910.1200 (this final standard), or the current standard, or both.

All chemical manufacturers, importers, distributors and employers
As the next deadline approaches, be sure to record your progress, especially on employee training:
Compare old safety data sheets to new one
Note any new hazards on SDSs requiring new employee training
Secure missing safety data sheets and archive older versions
Update written HazCom program
Re-label secondary containers (if necessary) in GHS format
Train employees on new hazards
Meet Emergency Planning and Community Right-To-Know-Act EPCRA/SARA reporting obligations
Stay current on GHS going forward
Here are two common questions customers ask:
Does GHS concern the Transportation of Dangerous Goods or Hazardous Materials?
No, it is a workplace rule, although some of the classification changes, for flammables, toxics and environmental hazards have been somewhat aligned in the regulations
What are the implications of GHS on my MSDSs?
GHS system has revised Safety Data Sheet (SDS), or MSDS, requirements.
GHS 16-section format for the SDS is as follows:
Identification
Hazard(s) Identification
Composition/information on ingredients
First-aid measures
Fire-fighting measures
Accidental release measures
Handling and storage
Exposure controls / personal protection
Physical and chemical properties
Stability and reactivity
Toxicological information
Ecological information
Disposal considerations
Transport information
Regulatory information
Other information
If you are at the NSC Expo today, stop by our booth #3963 before it closes! For answers to more questions regarding your hazardous chemicals/process safety testing to comply with GHS, please contact Jeff Griffin, griffin@fauske.com, 630-887-5278. WWW.Fauske.com