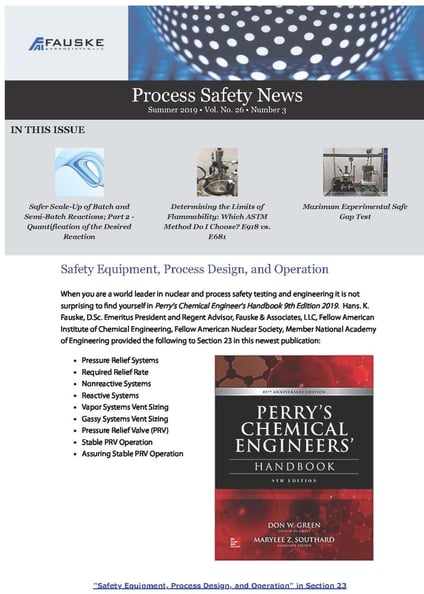 Enjoy our new format with articles:
Safer Scale-Up of Batch and Semi-Batch Reactions; Part 2 - Quantification of the Desired Reaction


Determining the Limits of Flammability: Which ASTM Method Do I Choose? E918 vs. E681


Maximum Experimental Safe Gap Test


VSP2 – Everything You Need to Know About Setting Up Your Heater Assembly (VIDEO)


Safety Equipment, Process Design, and Operation


Meet Engineering Intern Alexander H. Kaffka

UPCOMING EVENTS IN 2019

Visit with representatives from Fauske & Associates, LLC at these conferences in 2019:

• NSC 2019 Expo - September 9-11, San Diego, CA

• *Fall 2019 DIERS Meeting at FAI - September 16-18, Burr Ridge (Chicago), IL
• Relief Systems Design Course - October 16-18, Burr Ridge (Chicago), IL
• NFPA 652– An Introduction to Dust Hazard Analysis - Special Course at Aerodyne! - October 29-30, 2019, Chagrin Falls, Ohio

• 2019 AIChE Annual Meeting
- November 10-15, 2019, Orlando, FL


*Fauske & Associates, LLC (FAI) hosts the Fall 2019 DIERS Meeting - September 16-18, Chicago Marriott Southwest at Burr Ridge, Burr Ridge, Illinois
Don't miss this opportunity to hear featured keynote speaker, Dr. Hans K. Fauske, present on predicting equilibrium and nonequilibrium flow. To learn more about the Fall 2019 DIERS Meeting and how to register visit: https://www.aiche.org/design-institute-emergency-relief-systems-diers
To subscribe to FAI's Process Safety Newsletter click below.