The Spring 2018 Process Safety News includes articles:
Reactive Systems Vent Sizing: the Easy Approach
Flammability Hazard Assessments
FAQs of Hazardous Dust Testing
Electrical Safety and Combustible Dust
Dust Collection Kit and Common Sampling Questions
Seteram C80 Calorimeter
How To Collect a (Potentially) Combustible Dust Sample
Announcing FAI Partnership With P2SAC at Purdue
Is Your Testing Laboratory ISO/IEC 1705 Accredited?
Did You Know Fauske & Associates, LLC offers DSC & TGA Testing?
upcoming "Intro to Dust Hazards Analysis (DHA)" course offerings and more...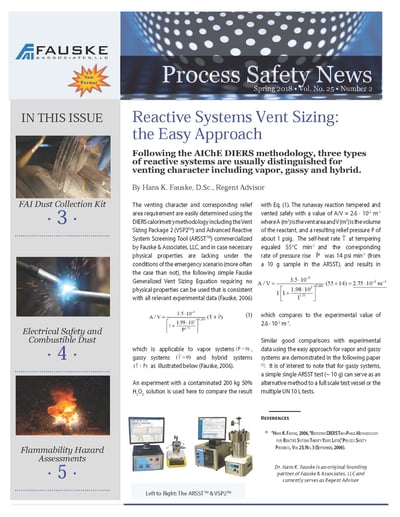 Never miss a beat, subscribe to our quarterly
Process Safety News
, our weekly blogs or our quarterly
Nuclear/Power Gen Technical Bulletin
.
For more information contact info@fauske.com
.