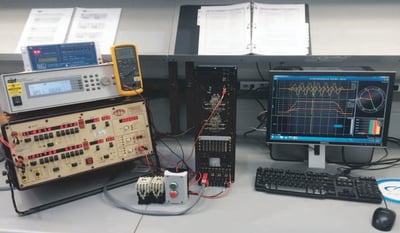 Watching for search trends related to our nuclear, chemical process and industrial safety engineering and testing lab is always interesting. We mitigate and help prevent severe accidents in a variety of industries, so we pay close attention to how folks google questions pertaining to testing as it relates to safety procedures and possible hazardous interactions....
So, when I saw the search for "Thermal Analysis of Electronic Components" pop up quite a bit in the last few months, I had to find out what is going on. Do they also mean "electrical"? In our world, Thermal Analysis or Stability testing by itself involves understanding and eliminating undesired reactions by determining critical safety parameters, understanding and accommodating process upset scenarios and understanding and designing desired process chemistry - so preventing, mitigating and operating/controlling thermal hazards. We do this with a number of heat flow and adiabiatic calorimetry tools across a number of industries.
Electrical Components Reference
The reference to "electronic components" is where things get tricky. Electrical engineering to improve the level of electrical safety and reliability involves System Studies - Power System Modeling (Generation, Transmission, Distribution), Arc Flash Studies (Incident Energy Analysis), Short Circuit Studies, Coordination Studies and Motor Acceleration and Load Flow Studies. Further, specialty testing and failure analysis of electrical/electronic equipment and components includes forensic failure analysis, environmental (EQ) and seismic qualification and commercial grade dedication.
Engineering and design services for electrical needs can include:
Arc flash risk assessment (to ensure compliance with NFPA 70E and NFPA 70 (NEC) e

Electrical hazardous area classification

Technical solutions for equipment obsolescence issues

Design basis calculations

Fire Probabilistic Risk Assessment (PRA) and circuit analysis

Complex circuit analysis

Bonding & grounding evaluations

Hazardous area classification independent third party reviews

Technical reviews

Evaluations and analysis/professional engineering review and stamping of electrical system designs.
Testing for load flow, motor starting, short-circuit, arc flash and coordination studies using ETAP or SKM Power* tools are also considered in comprehensive safety management programs .
In the nuclear industry, for example, on-site testing and assessment can include testing of electrical cables and equipment such as Line Resonance Analysis (LIRA®), VLF Tan Delta Testing, High Potential, CHAMP (Cable Health and Aging Management Program) assessments, infrared thermography of low, medium and high voltage electrical equipment and power quality monitoring, analysis and correction.
If electronic components are tested with multimeter, current, voltage, continuity, resistance, colour code, fuse, coil/inductor, switches, diodes and so on, as referenced in resources such as "How to test electronic components", its important to note that environmental and seismic testing - the kind we use in nuclear, chemical process and industrial plants - are examples of considerations for testing electrical/electronic checklists. Heat flow simulation within an electronic component can support design, prototyping and, so on.
Testing, Engineering and Design for Thermal Analysis
For more information regarding testing, engineering, and design for thermal analysis, electrical and electronic component testing, please contact info@fauske.com, 630-323-8750