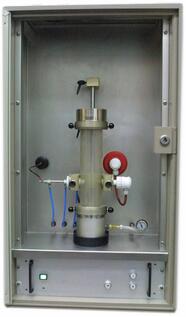 By Zach Hachmeister, Director of Operations, Fauske & Associates, LLC
A large majority of our clients seek out dust explosion testing for two reasons – one, to obtain data specifically for the installation/modification of equipment and two, for compliance purposes. Regardless of the driving factor, the first step in this exercise is to identify if your material in question is indeed combustible. In the first part of our series, "Combustible Dust Basics, Part 1: What does a Go/No-Go Test Mean?", we discussed how this can be achieved through conducting a screening test, or Go/No-Go test, on a representative sample of the material. If the test result indicates that the material is combustible, two other general questions should come to mind: 1) How bad can it be and 2) under what circumstances can my dust combust?
Question 1: How bad/energetic can it be?
The folks seeking data for the installation or modification of equipment are often most interested in the "how bad can it be?" aspect and want to know the KSt and Pmax values for their material. The KSt is deflagration index of a dust cloud (the maximum rate of pressure rise normalized to a cubic meter) and the Pmax is maximum overpressure. These two parameters are used to quantify how energetic a dust explosion of a given material can be and can be ascertained through an Explosion Severity Test. The reason people are interested in this data is so they can incorporate a mitigation strategy, such as explosion relief venting, into the design of the equipment that is capable of handling the full explosive potential of the dust.
Question 2: Under what circumstances can my dust combust?
We are also frequently contacted by people who are seeking data for compliance purposes. Often this is at the urging of an AHJ (Authority Having Jurisdiction). It might be OSHA (Occupational Safety and Health Administration), a building inspector, insurance companies, fire departments - or just the building owner, upper management and other employees. In addition to the Explosions Severity test, these inquires usually include a variety of other tests such as Minimum Ignition Energy (MIE) and Minimum Autoignition Temperature (MIT). The goal of obtaining this additional data is to allow for a better understanding of the risks associated with handling the material in question. By having an understanding of the ignition energies, temperatures, and concentration of dusts you can identify and address areas within the process that are more susceptible to an explosion event.
Fauske & Associates, LLC (FAI) offers a wide range of services related to characterizing, preventing and mitigating combustible dust explosion and fire hazards. These services include combustible dust testing, onsite assessments, OSHA compliance assistance, audit preparation, training, ignition source evaluation and vent sizing calculations. Testing is completed on-site in our state of the art dust testing facility per ISO 17025 guidelines. A portion of the testing services we offer is shown in the table below.
If you are in the process of characterizing your dust, upgrading your existing dust collection system, or planning on investing on a new one, contact us for an analysis of your dust and application. Representative dust samples for the application must be gathered in a very specific way. For more help, read "How To Collect and Ship Combustible Dust Samples For Testing" or contact us first for instructions and authorization.
Look for our final installment of this 3-part series next week with "Combustible Dust Basics, Part 3: What is Overdriving?"