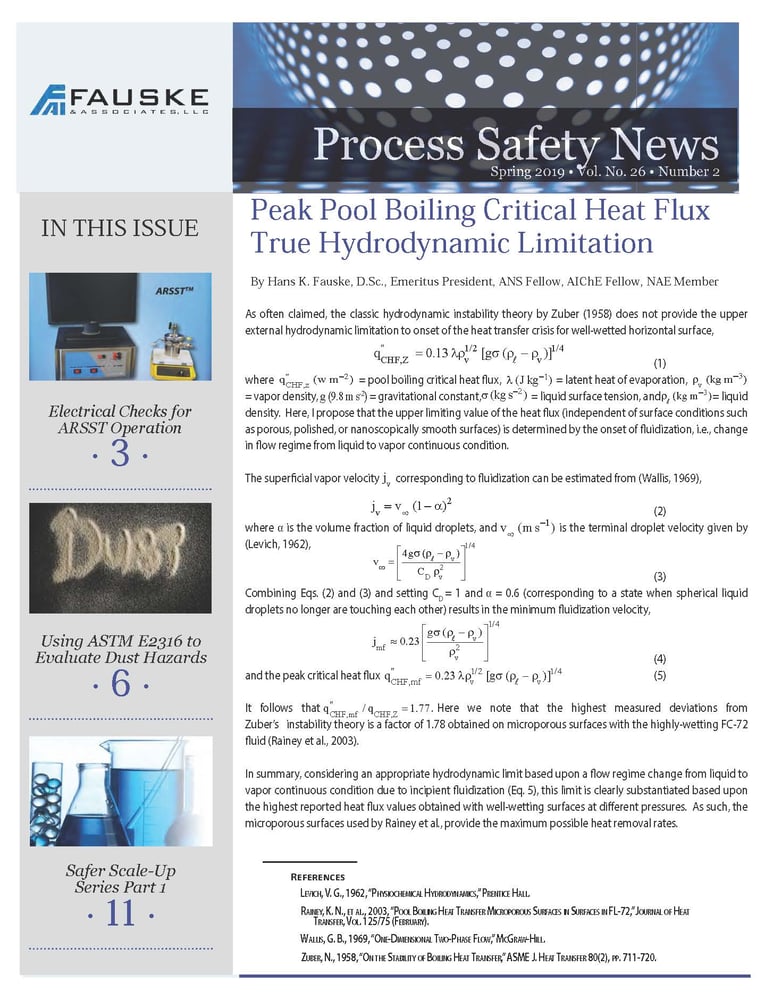 Click here to download your PDF copy of our Spring Process Safety Newsletter.
Featuring:
Peak Pool Boiling Critical Heat Flux True Hydrodynamic Limitation

5 Things Every Plant Manager Needs to Know About Combustible Dusts

ARSST – Things to Check to Perform a Successful Test

My Material Doesn't Look Like a Dust, Do I Still Need to Test It for Explosibility In a Dust Cloud?

Temperature As An Ignition Source: Which Test Do I Choose?

Safer Scale-up of Batch and Semi-Batch Reactions

FAI Welcomes Jacky Shoulders as Nuclear Services Manager
Upcoming Events to Find Us:
• AIHce EXP 2019 - May 20-22, Minneapolis, MN
• NSC 2019 Expo - September 9-11, San Diego, CA
• 2019 AIChE Annual Meeting - November 10-15, 2019, Orlando, FL
Don't Miss!
Relief System Design Course October 16-18 at FAI Headquarters, Burr Ridge (Chicago), IL
Fall 2019 DIERS Meeting September 16-18 Chicago-Burr Ridge featuring Dr. Hans K. Fauske