Recently, I came across an interesting article and model offered in "Solving the Right Problems: A Simple Model to Take Your Organization Beyond Compliance" featured in The Synergist. Author Matt Adams provides an excellent "EHSQ Maturity Curve" visual model where organizations or operations proceed along an upward trajectory from Compliance, to Proactivity to Leadership.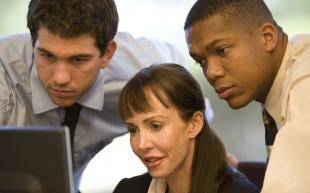 Environmental, health and safety, and quality (EHSQ) professionals and other plant safety and facility operations professionals can benefit from a guideline to organize, prioritize and focus on the tasks needed to take them beyond compliance into a "way of life" or cultural and procedural norm.
Adams points out that when it comes to determining whether to solve a problem now or later, it can be made more easily when a process is in place. In the first Compliance Stage, an understanding of governing organizations is defined - from OSHA and EPA, to local Authorities Having Jurisdiction (AHJs) as well as any and all tracking methodologies. Identifying any blind spots or roadblocks to compliance is key whether personnel, procedural or resource driven. Also, consider different tactics in varying locations to achieve goals - not everything can be done in the same order across facilities. Metrics including lagging indicators provide important information.
Finally, Adams aptly states, "the culture formed in the Compliance stage is the foundation of the rest of your EHSQ program. If your organization has individual sites or groups that haven't accepted the importance of compliance, focus all resources on mitigation of those risks before spending time and money trailblazing at other facilities or within other departments."
The Proactivity Stage is the second and focuses on systems to maintain compliance. With this firmly under control, the organization in this stage can focus on staying ahead of potential hazards, keeping management buy-in sharp and fully engaging employees. This may include incentive programs to keep efforts active.
The final stage is Leadership. Benchmarking is an art form from organization to organization, site to site. Staying current but consistent can be tricky but finding that cutting edge or tech savvy metric to suit will go a long way. As Adams says, "in the Leadership stage, operations are pushing the boundaries of accepted practices and innovating within their EHSQ programs."
Continuous change will always be part of an organization and effect it's facility's safety. By considering this model, the living breathing organism that is a work place stays well fed, groomed, safe and agile.
Process Hazards Assesments (PHAs), Dust Hazard Assessments (DHAs) and overall Process Safety Management (PSM) plans can be helpful tools in all of these three stages. Just some of the available tools in an arsenal for your organization's plant safety or facility safety needs. If you have any questions or would like to discuss, please contact us at info@fauske.com, 630-323-8750. www.fauske.com