Human Performance (HuP) – The Nuclear Plant, Process Safety Industries and Beyond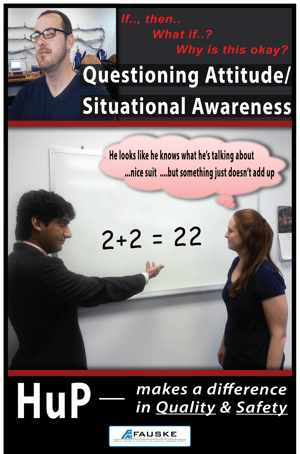 By Sara Peters, Fauske & Associates
"To err is human" – an adage we have all probably heard at some point in our lives packaged in many different ways. It is an all true reality though, as humans we have the potential to make mistakes despite our best efforts. Enter the idea of Human Performance (HuP) which is a nuclear industry concept based on developing and implementing behaviors to positively manage situations in a way that enables us to understand why errors occur and mitigate the incidence and severity of those errors.
At Fauske & Associates (FAI), we have always had a solid safety culture balanced with a commitment to quality. Recently however, in keeping with our roots as a provider of nuclear and chemical process safety testing and engineering services as well as being a subsidiary of Westinghouse Electric Company, LLC, we have bolstered these commitments further by adopting a human performance (HuP) way of thinking.
Per the Westinghouse Human Performance Handbook, Human Performance (HuP) is based on the following five principles that support a strong Nuclear Safety Culture:
People are fallible, and even the best people make mistakes.
Error-likely situations are predictable, manageable and preventable.
Individual behavior is influenced by organizational processes and values.
People achieve high levels of performance due largely to the encouragement and reinforcement received from leaders, peers and subordinates.
Events can be avoided by understanding the reasons errors occur and applying lessons learned from past events (or errors).
The idea seems to be pretty common sense ─people want to succeed, yet errors will occur, whether from inattention, misinterpretation, inaccurate knowledge. Therefore, fostering a corporate culture where there is proper consideration for accountability and a system of checks and balances on the job is important to minimize their occurrence. This is accomplished by using a set of 'tools' designed to minimize the opportunity for errors in daily activities. These tools include:
24-Hour Rule (or, appropriate time set for your facility)
Notify manager of an issue within 24 hours (2-4-8?) when an issue is identified where little progress can be made or resolution cannot be achieved so as to avoid jeopardizing quality, schedule and budget
Two individuals, performer and verifier, work at the same time to independently check, and collaboratively agree on the condition of a piece of equipment or component
Individuals anticipate all potential outcomes of a decision in order to make the best choice
Reduce distractions and interruptions for a person performing critical work so they can maintain focus
Effective Communication ─ Three-Way Communication and Phonetic Alphabet
Confirm understanding of verbal exchanges and use phonetic alphabet to clarify when using letters that sound similar
Two individuals, both verifiers, work independently to verify condition of equipment or component
In process check and agreement on direction between two peers before taking action
Project review to check for errors and verify quality of work
Personal Safety Assessment (Two-Minute Rule)
Review for possible safety issues prior to start of project
Used to evaluate the project and gather information and lessons learned
Discussion prior to project start involving all stakeholders to set scope and expectations
Problem Statement. Analysis. Causes. Testing. Solution.
Seeking appropriate means to resolve a problem that does not seem to have a solution
Procedure Use, Adherence and Placekeeping
Ensuring use of correct procedures for each project and associated activity
Product/Design Review Meeting
Team approach for early design review to leverage talents of entire team in development
Stop. Think. Act. Review
Provide personal affirmation that proper steps have been completed and work or project is acceptable for the next phase of the project
Situational awareness through thought about the task at hand before taking action
Briefly interrupting work to recalibrate when there is uncertainty about an action
Efficient transfer of information between teams
Validate Assumptions (DEFT) and Devil's Advocate
Documentation. Evidence. Field Walkdown. Track and close out.
Justify, support and if necessary challenge assumptions
Ensure quality provided by vendors is the same as our own
Performance feedback process for continuous improvement
Although HuP is a nuclear industry concept, the tools above are applicable in any organization wanting to see continuous improvement and opportunities for growth. They have certainly helped us in our ongoing efforts to improve quality and plant safety across our nuclear and non-nuclear businesses. We've had fun creating posters such as the one included in this blog utilizing our own employees and displaying them in prominent areas where staff and customers alike have responded in very positive ways. Are any of these "tools" part of your overall approach to safety and quality?
For more information on building your process safety toolbox, contact us at info@fauske.com or 630-323-8750 or 1-877-FAUSKE1