by Kris Fauske, President, Fauske & Associates, LLC
In a recent conversation I had with Jeff Griffin, Director of Business Development, the subject turned to the increasing need to provide customers with plant services such as seismic analysis of buried piping and cable analysis. Now, many of you are probably reading this and thinking, 'yes, I know Fauske & Associates, LLC (FAI) provides these services, but don't they really fit more in the nuclear area of your business?' The answer is no.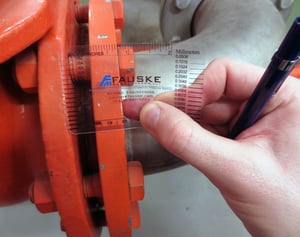 True, the NRC has had strict standards in place for years around maintaining the infrastructure of nuclear facilities to ensure their structural soundness for the long term, or in the event that a severe accident happens. These same standards are applicable in any type of industrial operation or setting.
To quote an observation by Jeff, "Industry in general is aging." It is true, facilities are aging, and as company's work to retrofit and make use of existing properties instead of building new ones it is especially important to consider their safety by looking at their structural integrity to ensure that they are reliable for ongoing use. Cable and piping failures have on more than one occasion caused safety concerns, even leading to the occurrence of accidents, costly repairs and loss of revenue through plant shutdown scenarios.
At FAI, we have been providing these process safety consulting and testing services for the last 35 years and are now applying the best practices we have learned in the areas of buried piping and cable analysis services to other industries beyond nuclear.
Our engineers are proficient in performing seismic walkdowns to screen for the seismic adequacy of systems, components, and piping. We follow applicable nuclear industry guidelines and alternatively, we developed the FAI seismic screening methodology which we have applied to other industries. This methodology also allows us to analyze underground and buried pipe. Our engineers and contractors who perform these walkdowns regularly undergo various professional seismic training (e.g. training provided by the Seismic Qualification Utility Group – SQUG).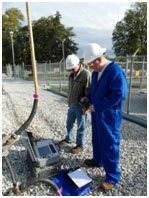 Additionally, FAI offers comprehensive cable analysis using our LIne Resonance Analysis (LIRA®) cable condition monitoring test which provides both an indication of the overall cable health and as well as locally degraded areas. It is a Nondestructive Evaluation (NDE) tool that does not over-stress the cable, but instead uses a relatively low 5 volt peak-to-peak (Vpp) signal to perform its evaluation. It performs both global and local assessments of the test cable. Importantly, the test cable does not need to be disconnected from its source and testing is completed in minutes. Leaving the cable connected eliminates a potential problem source: the cable termination.
The certifications and experience of our engineers in these areas allow us to assess safety related equipment across all industries. If you need assistance with buried piping or cable analysis, we are happy to assist. Contact us at 630-323-8750 or info@fauske.com and we will make sure you are connected with the correct engineer to meet your needs.
I hope you are enjoying a wonderful and safe summer! www.fauske.com
#plant safety, #facility safety, #nuclear cable, #cable test, #cable aging