Biomass Background - Forest, Sawmill and Agricultural Perspective
Biomass energy is a suggested replacement for fossil fuel combustion and is produced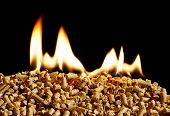 by combusting sustainable biomass materials such as wood and agricultural residues. An aggressively growing industry, biomass encompasses many combinations of production and storage, all with potentially hazardous interactions. Biomass generally includes forest, sawmill and agricultural residue. When processed into pellets, the moisture content is lowered and biomass is rendered logistically and economically suitable for transportation and for use as fuel in power generation and steam production plants. Biomass is an attractive fuel because the carbon dioxide emitted from burning biomass does not increase total atmospheric carbon dioxide if done on a sustainable basis. For this reason, many European utilities and private consumers are considering the change from coal-based power to biomass fueled-plants.
Because the biomass and pellet industry is primarily wood based, there are ongoing concerns about the safe processing and operation of biomass, whether during the pelletizing or fuel burning processes.
How Regulations are Driving Biomass Safety
In the US, different organizations have different responses to the biomass industry. At a recent conference, leaders from the United States Industrial Pellet Association (USIPA) stated that the biomass industry is a young industry. As such, it is unlike developed industries (the chemical industry) in that the hazards of production are not well defined and that there are no standard practices for good engineering or for safety. In spite of such concerns, the USDA recently committed to support the Biomass Power Association and other related organizations by stating, "Wood-to-energy efforts are a part of our 'all of the above' energy strategy. Appropriately scaled wood energy facilities also support our efforts to remove hazardous fuels and reduce the risks of catastrophic wildfires."
In Europe, The Climate and Energy Package is driving consumers and utilities to use more sustainable fuels (the 20,20,20 Targets). In the UK, new solid biomass sustainability standards are set to go into effect in 2015. Once the standards take effect, the biomass industry will be required to show its fuel is sustainable to receive financial support, per the UK Department of Energy & Climate Change.
WorkSafeBC (the enforcing and educational agency for British Columbia's Occupational Health and Safety Regulation bureau) publishes Notice of Incident (NI) reports to help prevent similar accidents in the workplace. A recent focus has been lumber yards with relation to fumes associated with storage. In addition, "Wood Dust in Sawmills: Compilation of Industry Best Practices" published in May 2012 emphasizes the need for risk assessment and audit for preventing and mitigating the potential for combustible dust explosions via a control program as well as the need for overall fire prevention assessments.
Tim Cullina, Senior Consulting Engineer at Fauske & Associates, LLC adds, "It's all about the AHJ (Authority Having Jurisdiction) when it comes to risk assessment. What does the building department say? NFPA may write a code, OSHA may have mandates, but what does your insurance company say about what you need to have? What is really going to protect your people and your facility?"
New Developments in Biomass
New processes are being developed to make Biomass more efficient. Specifically, companies in the US are working on a process called "torrefaction", a mild form of pyrolysis by which pellets are upgraded to have a higher quality energy and carbon carrier to augment coal. According to Shahab Sokhansanj at Biomass Magazine, "Torrefaction following pelletization currently appears to be a promising strategy to obtain torrefied wood pellets which are transportable with improved durability, reduced moisture content and higher energy value." While these new technologies are promising, they also raise new questions about how to safely process, transport, and burn fuels.
With all this focus and growth in the biomass industry, it is critical that managers are watching for risk management strategies to reduce the hazards associated with handling materials.
Risk Management is Key to New Biomass Technologies
Per Ashok Dastidar, PhD, MBA, Vice President, Dust & Flammability Testing and Consulting Services for FAI, "Combustible particulates in other industries tend to be addressed using cookie cutter approaches, often those mandated by OSHA. Using a generic risk based approach for biomass can be expensive and end up being a hybrid of other programs designed more for combustible dusts, for example. By taking a risk approach, you can have a custom designed risk safety engineering strategy."
The benefits of a comprehensive risk management strategy for biomass are:
Understand and address hazards that pose the highest level of risk to your process facility

Ensure compliance with relevant national, local and industry standards

Implement best engineering practices

Reduce overall level of risk

Increase productivity and employee morale

Make organization more competitive

Decrease insurance premiums
A comprehensive risk management strategy can include:
COMBUSTIBLE DUST EXPLOSION AND FIRE HAZARD EVALUATION
• On-Site Hazard Assessment
• Process Hazard Analysis (PHA) - Required per NFPA 652, NFPA 654, NFPA 664 and NFPA 484
• OSHA Combustible Dust NEP Compliance Support
• Training
• Policy Development and Implementation
PROCESS HAZARD ANALYSIS (PHA)
• Satisfy OSHA PSM Requirements
• Facilitate, Revalidate, Re-do PHAs
• Audit/Review PHAs
• Process, Equipment, Management of Change (MOC)
• Combustible Dust Operations
HAZARD IDENTIFICATION RISK ANALYSIS
• Flammability (Gas/Vapors)
• Combustible Dust
• Reactive Chemicals
CONSEQUENCE ANALYSIS
• Fire and Explosion Hazards
• Vessel Overpressure Scenarios
• Chemical Reactivity Hazards
• Chemical Releases
• Vapor Cloud Dispersion
SAFETY PROGRAM DEVELOPMENT
• Develop or Review Process Safety Programs
• Support Kilo Lab, Pilot Plant, Medium Scale and Commercial Scale Plants
• Auditing, Reporting, Documentation
• Identify and Prioritize Safety Gaps
• Consulting for Management of Change (MOC) Impact
• Combustible Dust Program Development
Fauske & Associates, LLC (FAI) offers a complete range of Risk Management Services including those mentioned above. For 34 years, FAI has been a leader in the process safety engineering needs of the nuclear, chemical and industrial industries. Our full-service laboratory provides analysis of thermal hazards in support of our consulting services. For more information, please contact Jeff Griffin, griffin@fauske.com, 630-887-5278