Stay on top of the latest in process safety hazards procedures, testing and industry news each quarter.
Fall's issue includes: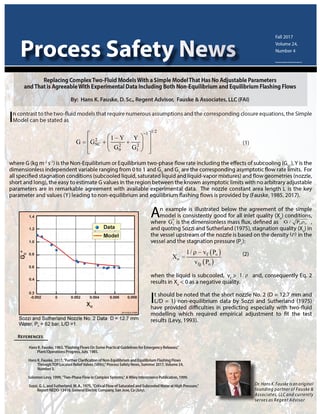 REPLACING COMPLEX TWO-FLUID MODELS WITH A SIMPLE MODEL THAT HAS NO ADJUSTABLE PARAMETERS AND THAT IS AGREEABLE WITH EXPERIMENTAL DATA INCLUDING BOTH NON-EQUILIBRIUM AND EQUILIBRIUM FLASHING FLOWS
By: Hans K. Fauske, D.Sc., Regent Advisor, Fauske & Associates
FAUSKE & ASSOCIATES (FAI) FINALIZES PARTNERSHIP AGREEMENT WITH THE UNIVERSIDAD AUTONOMA DE NUEVO LEON (UANL)
By: Arturo Garza, Owner/Founder BDSL; Fauske & Associates, Mexico
EFFECTS OF TEMPERATURE ON THE LOC OF DIMETHYL SULFOXIDE WHEN MIXED WITH A HIGHER VAPOR PRESSURE SOLVENT
By: T.J. Frawley, Flammability Project and Lab Manager, Fauske & Associates
PRE-CARIUS? CARIUS TUBE TESTING FOR HAZARDOUS MATERIALS AND REACTIONS
By: David Dale, Process Safety Manager, Scientific & Medical Products Limited & Jeff Griffin, Director, Global Business Development & Strategy, Fauske & Associates
REACTION CALORIMETRY VS. ADIABATIC CALORIMETRY: WHICH METHOD IS RIGHT FOR ME?
By: Donald J. Knoechel, Ph.D., Senior Consulting Engineer & R. Gabriel (Gabe) Wood, Manager, Thermal Hazards Testing and Consulting, Fauske & Associates
For more information or discuss process safety needs including adiabatic calorimetry and relief system design, combustible dust, reactive chemicals, flammability and Process Hazards Analysis (PHAs), please contact Kris Fauske at kfauske@fauske.com, 630-887-5224. www.fauske.com